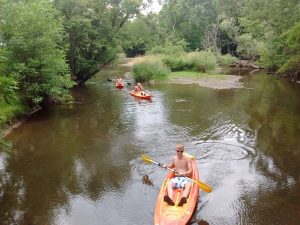 Welcome to Tecumseh Paddling Company.  We offer river trips, kayak rentals, paddleboarding and adventure!
Our outpost is nestled along the River Raisin in Tecumseh, Michigan, conveniently close to Detroit, Toledo, Ann Arbor and Jackson.
Discover the beauty of Michigan from a kayak or paddleboard.  Whether you are an expert or beginner, we have an experience for you!
Cool River Raisin Facts
One of the worlds most crookedest rivers
150mi. long
Has 84 Species of Fish
21 Species of mussels
Drops almost 500ft. (3.2ft/mi)
Begins near Brooklyn, ends in Lake Erie
Native Americans used it for travel
Activities at Satterthwaite Park
Tecumseh Paddling Company is located in beautiful Satterthwaite Park, which offers many recreational opportunities, including:
Skate Park
Tennis Courts
In-line Hockey Rink
Picnic Pavilions
Miles of Nature Trails
Basketball
Playground
Fishing
Geocaching
Kayaking
Fun!
.
What to Bring:
Cash and Checks only
Tupperware for Valuables
Sunscreen
Water
Hat
Polarized Sunglasses
Bug Spray
Fun and Adventurous Spirit
Thoughts to Consider
Due to the water levels and occasional logjams, some sections may not be available.